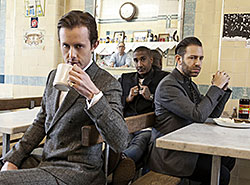 Chase & Status
Chase & Status, otherwise known as Saul Milton and Will Kennard, are producers of electronic drum and bass music. Their debut album, More Than Alot, was packed full of the kind of drum and bass anthems that have cemented their reputation as the UK's most exciting production duo.
Collaborating with other well known artists - including Tinie Tempah and Dizzee Rascal - the duo released their second album, No More Idols, in January 2011 and it reached No.2 in the UK chart.

A third studio album, Brand New Machine, was released in October 2013 and again reached No.2 in the UK chart.

Chase & Status have completed a number of massive live tours in the UK and Europe. The duo's last big tour took place in October and November 2013 at arenas across the UK.
Chase & Status - Tour News
Chase & Status - Links