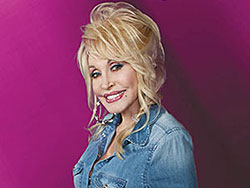 Dolly Parton

UK Tour Dates

Dolly Parton is an American singer-songwriter, actress, author and icon, who has become known as 'The Queen of Country Music'. Dolly Parton grew up in Tennessee, and from humble beginnings has become one of the world's best known entertainers. During the 1970s, Dolly enjoyed huge success with hits such as Coat of Many Colors, Jolene and I Will Always Love You, which gained her a worldwide following.

During her four-and-a-half decades in the music business, Dolly Parton has sold more than 100 million records worldwide and has received 7 Grammy Awards. Dolly also shares the record for the most number-one hits by a female country artist.

Dolly Parton visited the UK & Ireland in the summer of 2014, during the European leg of her 'Blue Smoke World Tour'.
Dolly Parton - Tour News
Dolly Parton - Links