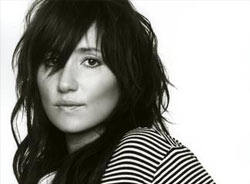 KT Tunstall
KT Tunstall (Kate Victoria Tunstall) is an Edinburgh-born singer and songwriter in the Country and Folk genre. Her first hint of fame came whilst performing on the Jools Holland show singing Black Horse and the Cherry Tree. Awards that KT Tunstall have won include several BRITs and an Ivor Novello. Kate has also been nominated for a Grammy.
KT Tunstall was adopted at the age of eighteen days by a couple living in St Andrews. She enjoyed playing piano, guitar and flute as a youngster and later took up a scholarship in Connecticut, New England where The Happy Campers group was formed.

Kate signed with Relentless Records in the nineties but was given a while to develop her style and hone her performing abilities before releasing her debut album, Eye To The Telescope in 2004.

Her performance on Later... with Jools Holland shot her into the limelight upstaging other acts on the show, Embrace, The Futureheads and even The Cure. Not long after this performance she re-released her debut album which shot up the charts to number three. It had previously entered the chart at seventy-three!

KT Tunstall broke America following an American Idol request to perform her Black Horse and the Cherry Tree track despite not having much positive to say about the show prior to the request.

In 2006, KT Tunstall released Acoustic Extravaganza and followed it a couple of years later with Drastic Fantastic which reached number one in the Scottish album chart and number three in the UK chart.

Tunstall's third studio album, Tiger Suit is due for release on 20th September 2010 and will be closely followed by a UK tour.
KT Tunstall - Tour News
KT Tunstall - Links