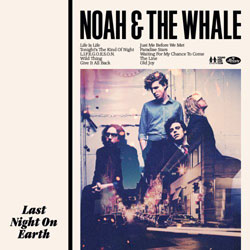 Album Review: Noah & The Whale - Last Night On Earth
Posted by Anthony - 8th June 2011
The third album from this indie folk group heralds a change in direction for them. Gone is the folk influenced sound, to be replaced by a straight down the middle pop/rock approach. This is an album of well crafted catchy pop tunes featuring a more adventurous musical mix.
The first two albums from this group were good in their own different ways. Whilst the style and sound differed there was no doubt that Noah knew all about a decent song. This continues on the latest album. There are 10 songs on it and not one is less than above average, with several excellent tracks. These are all short songs with hooks and choruses a-plenty. No long instrumental breaks or self indulgent meanderings here.

The overall sound is familiar, at times very 80s influenced but with a modern twist. The most striking thing is how singer Charlie Fink sounds like a cross between Lou Reed, Bob Dylan and Ray Davies. At times it's really spooky.

The album kicks off with Life Is Life which has a very Human League start to it. Then on to Tonight's The Kind Of Night where the Lou Reed/Bob Dylan sound is quite plain to hear. This is followed by L.I.F.E.G.O.E.S.O.N which has been likened to Lou Reed's Walk On The Wild Side and, while I can see the reason for that, I have to say I found it reminiscent of Ray Davies.

This leads us to the next song, Wild Thing, a superb track which has some Shadows style guitar playing and is my favourite on the album. Once again I was reminded of Lou Reed and Ray Davies!

And so it goes on through the remaining 6 songs. Two to mention are Just Me Before We Met which has a great chugging instrumental backing throughout the verse, and Paradise Stars which is a very short instrumental piano led tune that sounds like a snippet of dramatic film music.

I was very impressed with this album and liked it very much. The singer has an attractive dark voice, the songs are tuneful and the arrangements are interesting and not overdone. A few critics of the album have said it has rather ordinary songs but I disagree. Admittedly there is nothing deep about this collection; it's just well crafted adult pop music and we don't get enough of that at the moment. Highly recommended.