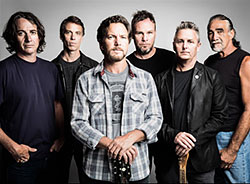 Pearl Jam in Leeds
Where: First Direct Arena, Leeds
When:
Pearl Jam will visit the UK during the summer of 2014 as part of the band's 'Lightning Bolt Tour'. The Seattle rockers will perform a gig at the First Direct Arena in Leeds on Tuesday 8th July during the tour.
Lightning Bolt is Pearl Jam's tenth studio album, and was released in October 2013.

Tickets to see Pearl Jam perform live in Leeds are on sale now. Follow the links below to buy tickets online or call the venue box office on 0844 248 1585.
More: Pearl Jam UK Tour Dates