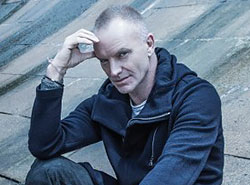 Sting
Sting was the lead singer and bass player in the 1980s super-group The Police. Since the mid-eighties Sting has enjoyed a highly successful solo career with multi-platinum selling albums and several Grammy awards. Sting's solo work is best described as eclectic. He has pursued various musical directions, including classical and folk, as well as the more mainstream rock and pop.
In 2007 Sting reunited with former band-members Andy Summers and Stewart Copeland for The Police Reunion Tour, to mark the 30th anniversary of the band.

Sting toured the UK & Ireland with Paul Simon in April 2015. Sting also performed three solo shows at Sage Gateshead later that same month.