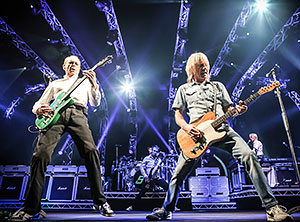 Status Quo

UK Tour Dates

Status Quo were formed in the 60s, but commercial success didn't arrive until the 70s when the band developed their distinctive boogie-rock sound. Status Quo pursue a relentless touring schedule, which has won them many fans across the UK and mainland Europe.

As recognition of their long-standing services to music, Francis Rossi and Rick Parfitt have each been awarded the OBE. Over forty years after they started, Status Quo are still rockin' with the best of them!

Status Quo will embark on their last ever full-on electric tour in 2016. After the Last Night Of The Electrics Tour no further electric tours will be booked for this legendary band.