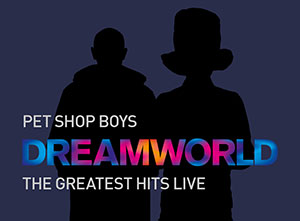 Pet Shop Boys

2020 UK Tour

Pet Shop Boys have a massive UK arena tour planned for May and June 2020. The synth-pop icons will play shows in London, Manchester, Birmingham, Bournemouth, Cardiff, Newcastle and Glasgow during their Dreamworld – The Greatest Hits Live UK tour.
How to buy Pet Shop Boys tickets?
Tickets for Pet Shop Boys' 2020 UK tour dates went on general sale on Friday 13th September, priced from £40 plus fees, at Ticketmaster.co.uk.
Pet Shop Boys - Tour News
Pet Shop Boys - Links