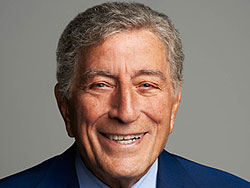 Tony Bennett
Tony Bennett is an American 'crooner' born in 1926. To date, he has won seventeen Grammy Awards as well as two Emmy Awards. Tony has been performing professionally for some sixty years and has released more than seventy albums, including I Left My Heart In San Fransisco and Duets: An American Classic.
Tony's most recent album, Duets II, was released in September 2011 to coincide with his 85th birthday celebrations. The album features several high profile collaborations with artists such as Lady Gaga, Amy Winehouse, Michael Buble and Andrea Bocelli.

Tony Bennett has announced a handful of UK tour dates to take place during the summer of 2012, including two shows at the Royal Albert Hall in London.